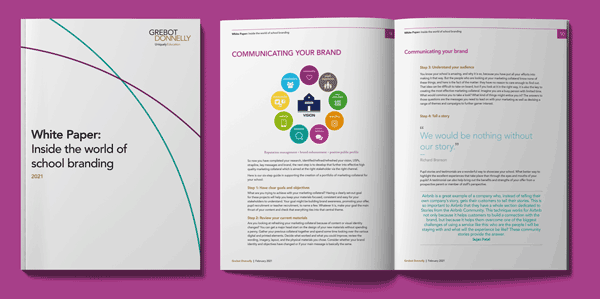 White Paper: Inside the world of school branding
The term 'marketing' in the education sector is no longer considered a profanity and is now a discipline that schools are interpreting and using to maximum effect. We believe there is another term that is so commonly misunderstood, but which schools should be embracing and capitalising on – brand.
A recognisable and loved brand is one of the most valuable assets any organisation can own, and the most common mistake schools make is not seeing themselves as a brand. A brand is your identity – it is who you are; how others perceive you; what others 'buy' into; how you operate and communicate; and the image and reputation you build.
In many ways, the challenge of branding within education is no different to any other sector; and within this White Paper, we draw upon examples of good practice from the corporate world, and other sectors, to highlight just this. We dive into the meaning and importance of brand and we also reference genius sources from the design world to showcase techniques on how brands are brought to life.
Complete the form below to download our White Paper: